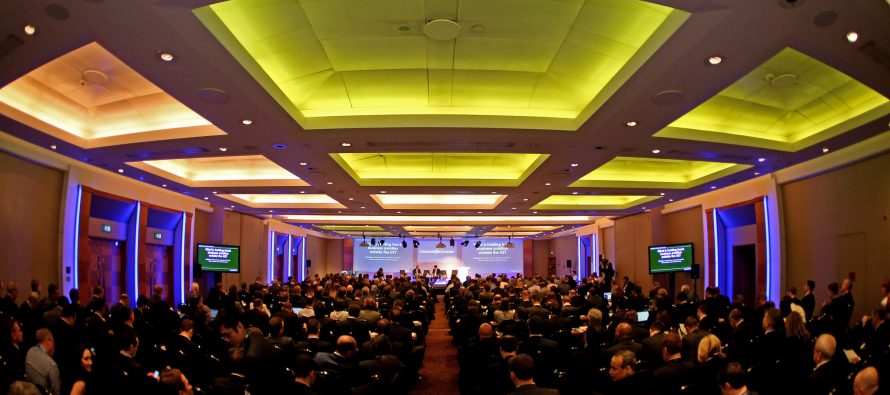 news
The most optimistic Corporate Jet Investor conference ever
More than 550 people were filled into the ballroom of the Landmark hotel for the Corporate Jet Investor London 2018. The conference agenda and speakers generated such interest among the delegates, that for the first time in its 8 year history, Corporate Jet Investor London was completely sold out weeks before the event and the waiting list had more than 100 names on it.
The first day was kicked off with a poll for the audience, asking everyone how optimistic they were about business aviation in 2018? Turned out everyone was positive, with 56% of delegates saying they were fairly positive and the rest saying they were very positive. The majority of delegates believe that the business jet recession is over, with 67% thinking we are seeing the tail end of the recession we have seen since 2008.
Ivan Veretennikov, Sales Director at ArcosJet was invited to participate in the panel discussion on BRICS and MINT. Our company has analyzed these emerging markets on numerous occasions – Brazil, Russia, India, China, RSA, Mexico, Indonesia, Nigeria and Turkey. Evidently, the companies working on these markets face similar obstacles, but by working together we can make business aviation more transparent and comprehensible. This would benefit every market player, as well as aircraft owners and operators.
The discussion happened among the representatives from different regions. They mentioned the current state of affairs and their approach to dealing with clients and aviation officials. Ivan shared the overall optimistic attitude and pointed out some positive tendencies in Russia and CIS, but also stressed the importance of a closer dialogue between the emerging markets and taking on a education role in their countries: 'All of us will benefit if clients would understand the real situation on the business aviation market, and we, in turn, will be able to work with each other with more transparency. We have to follow the example of the boating industry, where both, the brokers and the owners, play the game a certain way. It would be great, if our local business aviation associations could use the experience of their successful colleagues, like NBAA and EBAA, in order to further legislation and tax remissions that help develop our industry.'
Responding to the question about new sanctions the US might impose on Russia, Ivan noted: 'This time they simply opened Forbes magazine and copied down some names. It is not a very scientific attitude, as well as shifting the blame for everything on the Russian hackers.'
This year Ivan is also speaking at BBA Baltic Business Aviation in Tallinn on February, 22 and ECAS European Corporate Aviation Summit in Malta March, 8.